Yesterday the UK Prime Minister, Boris Johnson, announced a new four step plan to ease England's Covid-19 lockdown that will leave retail and hospitality businesses closed until 12 April. We discuss key dates for the easing of the lockdown, how this will impact the retail sector, what retailers can do to increase sales during lockdown and key strategies they can implement when stores finally reopen.
What we know about the government's new Covid-19 lockdown roadmap
On 22 February, 2021, the Prime Minister announced his four step plan for the easing of lockdown restrictions across England:
All schools reopen from March 8 and two people from different households able to meet outside
Groups of up to 6 or two households able to meet outside from March 29.
Non-essential shops, hairdressers, gyms and outdoor hospitality will reopen from 12 April.
Most outdoor restrictions lifted from 17 May, with 6 people or two households allowed to meet indoors. Indoor hospitality and hotels reopen.
All legal limits on social contact removed by 21 June.
How long will it take to vaccinate all UK adults?
All adults in the UK will be offered their first dose of a coronavirus vaccine by the end of July, the Prime Minster told the BBC.
Currently, more than 17 million people have been received a Covid-19 jab since rollout began in December, 2020 – all over 50s will have been offered the vaccine by April 15.
Judging by these metrics, stores should be able to reopen in late April or early May – but they will be closed for at least three months.
How retailers can increase sales during lockdown
Retailers are already under immense financial strain, and while many are expanding their e-commerce functionalities to keep revenue coming in and fulfil consumer demand, the impact the lockdown has had on brick-and-mortar retail is severe.
However, many retailers are investing in alternative ways to provide customers with engaging customer experiences, such as:
Virtual one-on-one service offerings
A recent Qudini survey of 2,000 UK consumers highlighted a strong consumer demand for virtual services from most retail types – the demand was especially high with younger consumers.
Many leading retailers, such as Burberry and Samsung, are allowing customers to book one-on-one appointments with their in-house experts. This approach can be applied to anything from fashion and style advice, to makeup and beauty tutorials, to financial health checks and consultations, to technical device advice and repairs.
Using appointment scheduling software, retailers can easily allow their customers to select a virtual service, choose a time-slot that suits them and, after confirming their appointment, receive regular reminder emails with a video-calling link in the description to make the process simple and engaging.
Contactless curbside click and collect
With the lockdown restrictions changing, more people will be out and about due to schools reopening and the allowance of some social contact.
As a result, retailers should expect an even stronger increase in demand for curbside click and collect services. (The same survey already highlighted a strong demand for curbside click and collect from UK consumers.)
With the help of virtual queuing software, customers can have their orders delivered directly to their car boots without leaving their cars. Customers can easily collect online orders by arriving outside a store then checking in by scanning a QR code or sending a code via SMS on their phones, then receiving real-time updates as their turn draws near.
5 ways retailers can prepare for stores reopening
When stores do reopen on 12 April, retailers should focus their attention on implementing:
1) Virtual queuing apps for services and store visits
To eliminate the need for physical queues outside and inside of stores, many leading retail brands have already introduced virtual queuing apps.
Instead of waiting in a physical queue outside your store, customers can join a virtual queue by scanning a QR code, sending a code via SMS or speaking with a customer host at the store entrance – they can then track their position in the queue, view estimated wait times and receive a notification when it is time to return to store.
2) Appointment apps for booking services and store visits
Retail stores offering in-store services such as personal shopping appointments, technical expertise or product consultations should consider using an appointment booking app.
If you choose one of the best appointment booking systems, your customers can easily book a time-slot with an in-store expert, and stay engaged with regular reminders via SMS and email. And your store managers can allocate the right customers to the right store associates based on their service needs, as well as manage the post appointment follow-up process.
The same technology can be applied to store visits. To eliminate queues outside of stores, retailers should consider allowing customers to book time-slots to enter stores.
3) Occupancy tracking using Qudini's manual capacity counting app
The Qudini Occupancy Tracking App allows retailers to manually track store capacity across multiple store entrances and exits and with real-time functionality. It also integrates with the Qudini Virtual Queuing System and Appointment Scheduling App to provide accurate data that store teams can rely on.
4) Increased ventilation and sanitisers
Covid-19 is more likely to spread indoors, as particles in the air are replaced at a slower rate than with clean air. Before the last lockdown was lifted, Sage recommended that "opening non-essential retail safely would require a significant effort to ensure that environments are appropriate to minimise transmission (for example social distancing and hygiene measures, ventilation)".
Sage estimated that opening non-essential retail would see a 10% increase in indoor contact between shoppers, which is why we saw virtual queues, crowd management, one-way systems and designated waiting areas come into effect when the lockdown initially eased in June, 2020.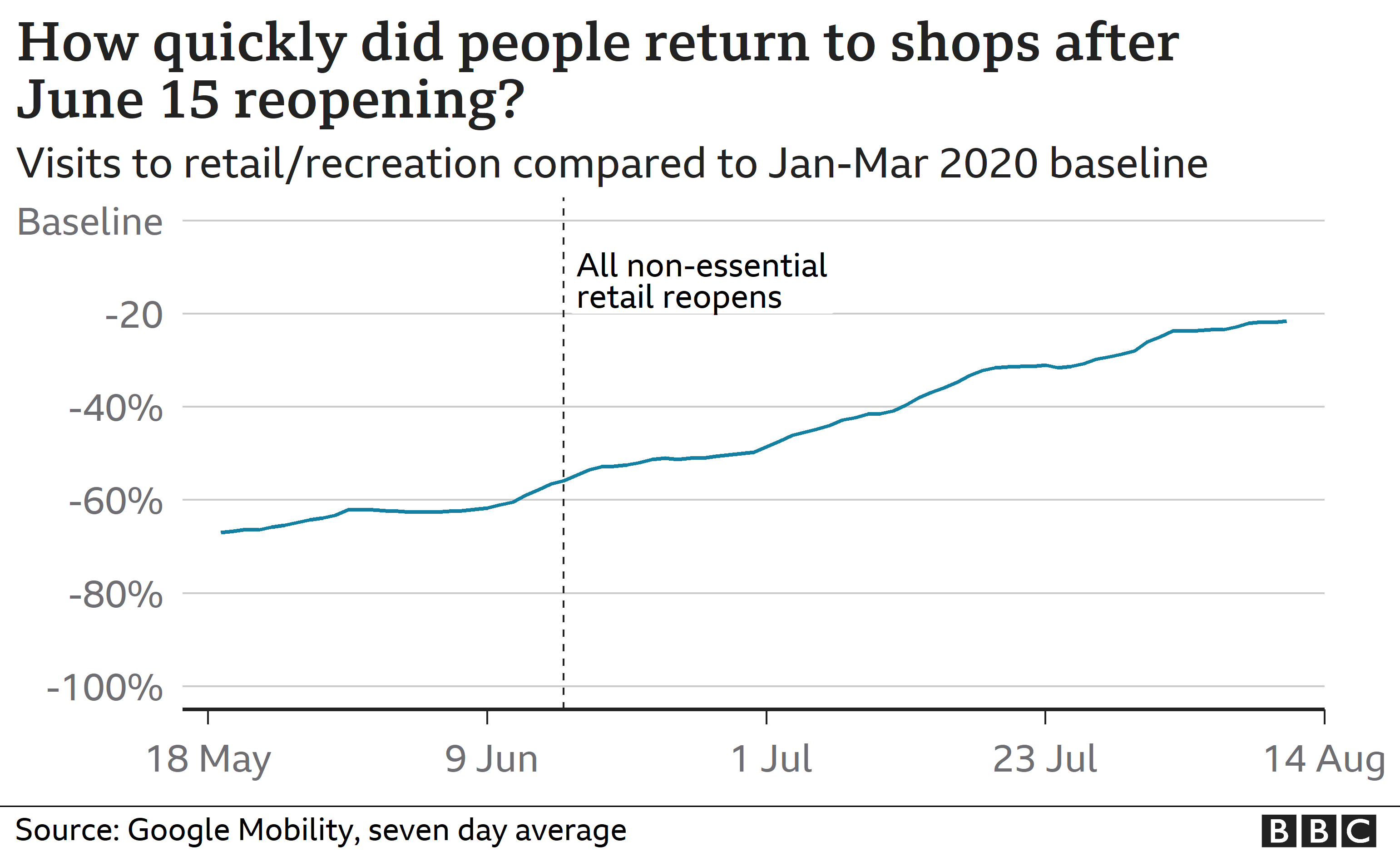 Sage thinks non-essential retail is "low risk" when measures are in place and masks are worn, but if a community has a high number of cases, these "low risk" actions can become riskier.
As a result, maintaining high hygiene inside of stores is essential, which is why many leading retailers are investing in technology that increases airflow, as well as continuing to push hand sanitiser upon entry.
5) Workforce management software to better position store associates
When unessential stores were open, a large number of customers were avoiding stores or severely reducing their trips, and many that did make a visit were left feeling anxious and overwhelmed. But there are a number of simple ways retailers can take the stress out of shopping, such as positioning a store associate at the front of the store to act as a customer host. Customer hosts can check customers into virtual queues, book them appointments for in-store services, or simply point them in the right direction.
Leading retailers are not only investing in customer hosts, but they're also getting more tactical when positioning all their store associates throughout their stores. With the right workforce management software in place, retailers can position store associates in the right places at the right times, and easily allocate tasks, change priorities or positions, or communicate shift breaks.
Consumers want Retail Choreography software
While the four step plan will take place over the course of several months, many of the timeframes are necessary as most adults won't receive their second dose until September/October (provided they receive their first dose in July).
The contemporary psyche will be impacted by the pandemic for at least a year or so, and people will still be scared to go near each other and reluctant to enter stores, meaning that meeting customers in places that suit them (with virtual appointments and curbside pickup) and choreographing a seamless and safe in-store experience (with virtual queuing, appointment scheduling and occupancy tracking) will definitely be needed in most types of stores.